28th Byron Bay Bluesfest Blog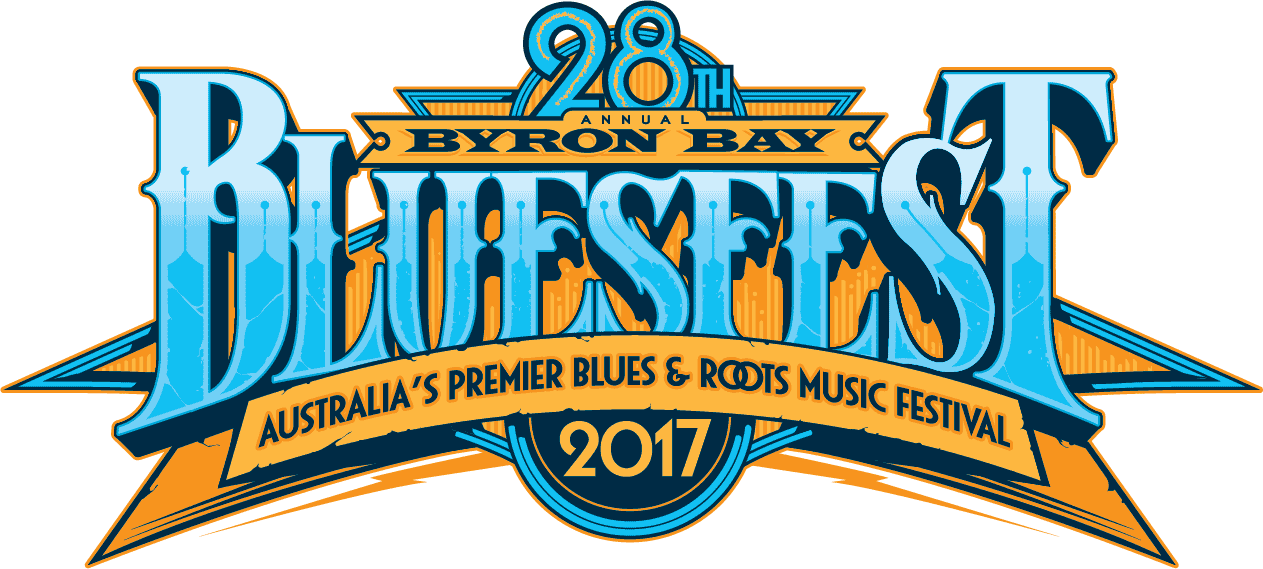 Mud Morganfield and Snooks Le Vie (Photo - Anthony V Moulay) Bluesfest 2017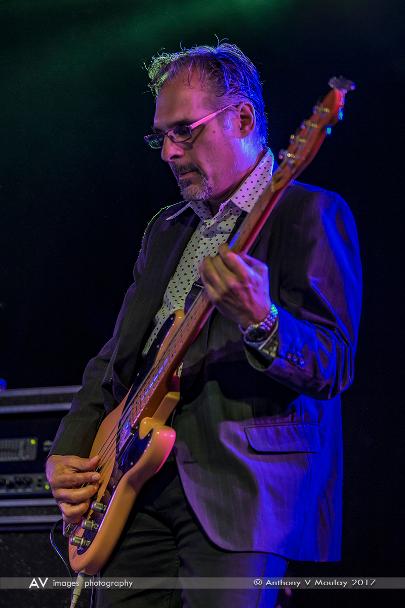 Day 1 Thursday:
Plenty of blues on offer Day 1: Blind
Blind Boy Paxton opened the festival for one of the earliest starts for a Easter Thursday that I remember in our 25 years of attending Bluesfests; Manx guitarist - Davy Knowles; & Devon Allman Band...these three acts will all be playing other sets over the weekend. Make sure you get along to at least one of each of their gigs, all are highly recommended!
Big thanks to Eric Gales for the shoutout being #1 on our International Charts last month...it's wonderful to see that the Blues charts are getting International recognition! He's the Bluesfest debut act to catch - today @ 9:30 Juke Joint or Delta Sunday 7:30.
Mud Morganfield puts the "blues" into Bluesfest...if you want to see some authentic Chicago electric blues, Mud Morganfield, with his Adelaide pickup band of Snooks La Vie on harp, Nick Kipridis and Sav Palaktsoglou sharing the lead/rhythm guitar duties, Dennis Kipridis bass, Micky Garcia on drums and Deryck Charles piano, will be playing the Juke Joint stage today @ 11pm....Mud is the first born son of McKinley Morganfield AKA Muddy Waters. Great versions of I'm a Man, Hoochie Coochie Man, Mojo Workin' were all in the set list among many other great electric blues tracks.
Outside of blues genre picks are Vintage Trouble always giving 100% plus to every gig they play; & Snarky Puppy a jazz/funk/fusion instrumental band that will keep you enthralled with their amazing musicianship throughout the whole set. St Paul & the Broken Bones and so much more on offer....bring on the next 4 days of musical bliss!
Day2 - Friday:
Sunny skies, celebrity spotting and plenty of great music. News was buzzing on site of reported sightings of the first celeb chilling out backstage - Jason Mamoa of GOT & Aquaman fame.
Rhiannon Giddens powerful voice opened the Crossroads with a superb version of "Spanish Mary". She earned her right to be up there sharing the stage with Mavis Staples & Bonnie Raitt and she made sure we knew the full range of her voice. Her set held the theme of freedom and in a nice segue to Mavis Staples she finished with "Freedom Highway" the title of her latest album. Coincidentally this was Mavis' closing track in the Crossroads written by her father "Pops" Staples.
The Vasti Jackson & Ellis Hall set was music to our ears. Vasti entertaining as always, having fun & playing great guitar. Ellis showing his exceptional piano & guitar skills. He's refined that 6th sense! As a BF treat he gave us a first verse of Land Down Under when he picked up the guitar.
Speaking of guitar, Devon Allman's set was full powerhouse and tasteful licks. From start to finish the set was driving six strings and powerful vocals. There is at least one act every year that gets to play all days over the weekend, you're lucky that this year looks to be Devon Allman's turn...make sure you get to witness at least one of his sets.
Eric Gales gave another electrifying set; certainly enjoying his first Australian tour. Gave big wraps to Bluesfest & again we're chuffed he mentioned the International Blues Airplay charts.
Trombone Shorty & Orleans Avenue know how to get a crowd worked up and the Mojo audience certainly went along for the ride. Not hard for this band with their vast musical chops & outstanding showmanship which they are renowned for.
Bonnie Raitt and her band gave us some smooth electric music as it was her last performance on a one month tour. The set included the INXS cover "Need You Tonight", tracks from her old & new catalogue "Love Me Like a Man" from 1973, guest spots by 3 of the California Honeydrops & Joan Osborne joined her for a beautifully haunting version of "Angel from Montgomery". She took a backseat while Mike Finnegan on piano played a tribute to BB King. She was allowed the privilege of an encore which included the very personal "I Can't Make You Love Me" before heading off stage and on home to the States.
The Lumineers had a large, enthusiastic crowd who joined in singing along to every track they played...certainly a crowd favourite with a wide range of appeal.
We wandered out into the night and a bit of car park crush to the sounds of Mud Morganfield and band playing on the Juke Joint stage with a smile knowing we still have another 3 days of fantastic music to go!
Blind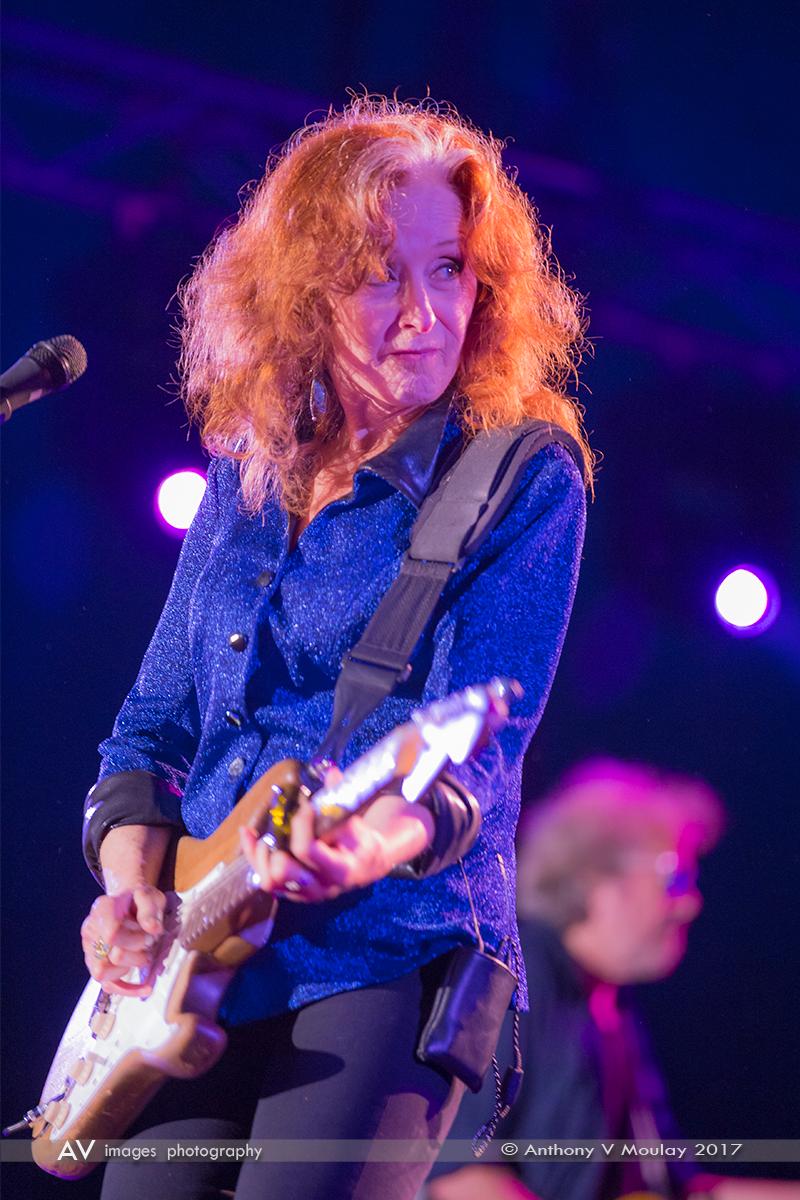 Bonnie Raitt & George Marinelli (Photo - Anthony V Moulay) Bluesfest 2017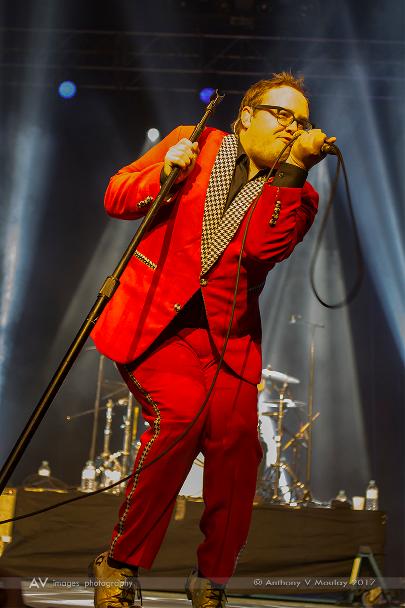 Day3 Saturday:
The music and the sunshine rolls on:
Jeff Lang started off Day 3 proceedings at midday on The Delta Stage…just a bit too early for us to make it after the carpark crush the night before. Though I did help Mary Cannon, a fellow presenter at BayFM in Byron Bay, to interview Jeff later on in the day (well I monitored the recording of said interview for her).

Ray Beadle & the Silver Dollars were playing next after Jeff and we caught the last few songs of this powerful and underrated Australian musician, this year marking 20 years with his drumming companion George Brugmans…it is always amazing as you walk out of a tent and hear people say that they were blown away by an act they have not seen before…this is a constant with Ray. It's only at Festivals like Bluesfest that people are not afraid to go and try something new. I hope this translates to a whole collection of loyal followers for Ray.

The dynamo Nikki Hill was looking gorgeous in a black cat-suit. The band now has a double guitar assault of Matt Hill with the addition of Laura Chavez (from Candy Kane's band). "Right On the Brink" and "If You Want Blood" were two of the songs that were standouts.

Today was a bit of a day for collaborations with Beth Hart hitting the stage with Vintage Trouble for the amped up "Run Baby Run". Then Eric Gales hopped on stage for a track with Beth Hart in her set which followed on next.

Of course many people came to see the elder statesman of the Blues, Mr Buddy Guy…always the ultimate showman. He gave the crowd what they came to see, He did his gig favourites: playing Hendrix style, playing guitar flat on the speaker stack as in lap slide style, toweling down the neck of his guitar while still hitting perfect notes…sometimes going on with his patter, "I can play that other shit too": Marvin Gaye, Ray Charles, Cream's "Strange Brew", and he does without fault…what else would you expect.

Pick of the day were debutants The Record Company that just rocked out the Jambalaya stage. Songs that sound as if they could be lifted from the late 60's, early 70's with great slide, harp, bass and a drummer that can hold down that back beat so tight. They are playing two more times over Bluesfest and promised different sets at each, so even if you did get to see them the first time go and check them out again.
We closed the night out with a bit of feet up time and a refreshing beverage or two as it's that time of the festival where feet have had too much dancing and the late nights are taking a toll! But we did get to catch a little of the Doobie Brothers set and the whole of St Paul & The Broken Bones…that band knows how to enjoy themselves with St Paul Janeway doing his entertaining best for the crowd…amazing to see live!
Now on to see what Day 4 has in store…
Breaking News...
Bluesfest is thrilled to announce that Patti Smith has kindly donated $10,000 AUD to local charity Rise Above The Flood a local organisation working on a ground roots level to help those impacted by the recent flooding. Volunteers from the charity were invited by Bluesfest to collect money at the festival and patrons have also been giving generously as they enter the festival. All the proceeds from 'Rise above the Flood' will be donated to these local community groups:
- Murwillumbah Council - Mayor Appeal Fund for Flooding
- Helping Hands Lismore - A community run organisation with flood assistance packages
- Northern Rivers Community Gateway - Direct Flood Assistance.
- Mullumbimby Neighbourhood Centre - Direct Flood Assistance.
Day4 Sunday:
For a change of scenery, we walked in from the South gate listening to the bluesy sounds of Davy Knowles. As we settled into the Jambalaya tent Davy was playing an admirable tribute to Rory Gallagher with his solo slide work on "As the Crow Flies". After this he was rejoined by his band to play high-spirited versions of "Wrong Place Wrong Time" and "Coming up for air" from his Back Door Slam days.
The Record Company delivered another stellar set on the Crossroads. Checkout their clip " Rita Mae Young". They make a point of not playing covers but for BF in the Sunday set they made an exception with a version of Jimmy Reeds' "4 days 3 nights".
"Gales-fest" at Bluesfest

In our opinion Eric Gales has settled into a nice groove for the 2017 Bluesfest...In his last set with festival director Peter Noble watching on from the crash barrier of the photography pit Eric Gales promised to "play his ass off" and he delivered as promised, in spades. Up against his "godfather" Carlos Santana on another stage Eric was pleasantly surprised so many people turned up to witness his last gig for Bluesfest 2017. Just as evidence Eric took a photo of himself and the vast crowd filling the Delta tent. His only cover from the new album Freddie King's "Boogieman" became a 10-minute marathon. Eric's voltaic performance is bound to get him an invite back to future festivals. Eric & the band have been genuinely humbled and so happy by the response to his music at Bluesfest.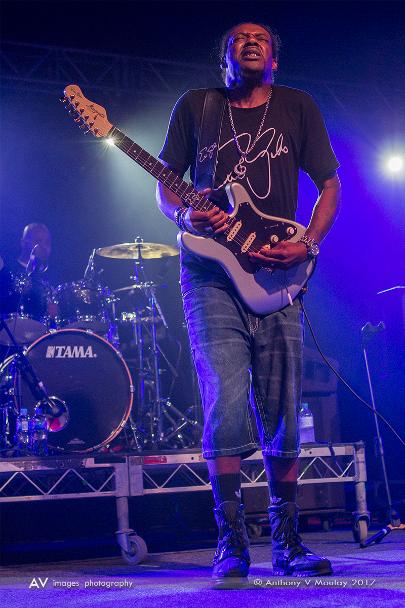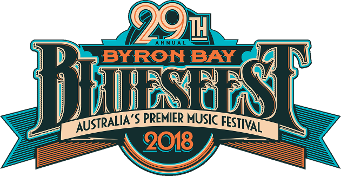 Copyright © 2010-2023. Anthony V Moulay. All Rights Reserved.