33rd Byron Bay Bluesfest 2022
words and pictures by Anthony Moulay & Mary Mackenzie
Christone "Kingfish" Ingram (photo: Anthony Moulay - AVimages)
Yes, finally Bluesfest has come back after the nightmare of the past two years of false starts, postponements and cancellations. The much anticipated 33rd Bluesfest rolls around after the two year hiatus...crowds and musicians are equally excited about the restart of this wonderful music festival.
The annual Easter "religious experience" began with a format which eases us back into the festival life. Only 3 stages out of the eventual five are in play today - The Delta, The Juke Joint and The Mojo all have some very happy musos on opening day!
The new layout with COVID compliance has meant there seems a little more space to spread out...the joy is tangible by musicians and punters alike.
Opening Day 1 - Thursday
Mainly Australian acts had been booked because of restrictions on International travel when firming up acts had to take place months ago, but there are some exceptional Internationals dotted throughout the lineup.
One of those who definitely made opening night seem like nothing had happened in the past two years was Christone "KIngfish" Ingram. Coming off the back of his Grammy win for the Best Contemporary Album for his release 662 in the last few weeks, he and his band, consisting of Paul Rogers on bass and Chris Black on drums, play an amazing set of guitar blues. This 22 year old is certainly the exceptional player that he has been touted as. He is playing again on Saturday, Sunday and Monday.
Another blues act not to miss is the Blues Empress Allstars featuring Fiona Boyes, Ali Penny, Anna Scionti, Cara Robinson, Leesa Gentz, Julz Parker, Sweet Felicia and token male Mark Grunden. An hour of pure musical joy. In the words of Leesa and Julz from the Hussy Hicks "Yesterday felt like a surreal and beautiful dream, what an incredible honour to share the stage with some of the most kickass women in Australian blues music. We get to do it again tonight with the Blues Empress Allstars at 8pm, Jambalaya stage."
Today's dance card includes Hat Fitz & Cara, Kara Grainger, Fiona Boyes & The Fortune Tellers, Ash Grunwald, Pacey King & Doley, CW Stoneking, Russell Morris, Midnight Oil, Lachy Doley & The Horns of Conviction and maybe some Kevin Borich to finish off the night! Time to get those boots on and get going...tune in tomorrow for more piccies and words!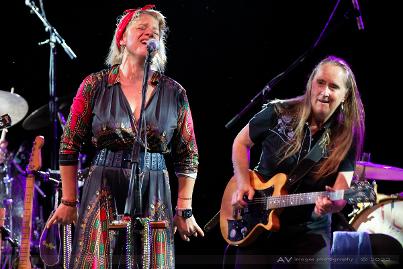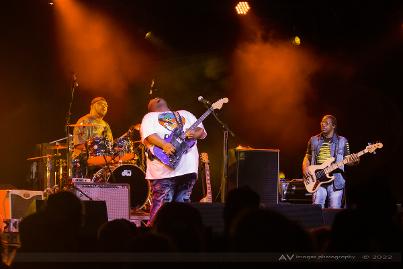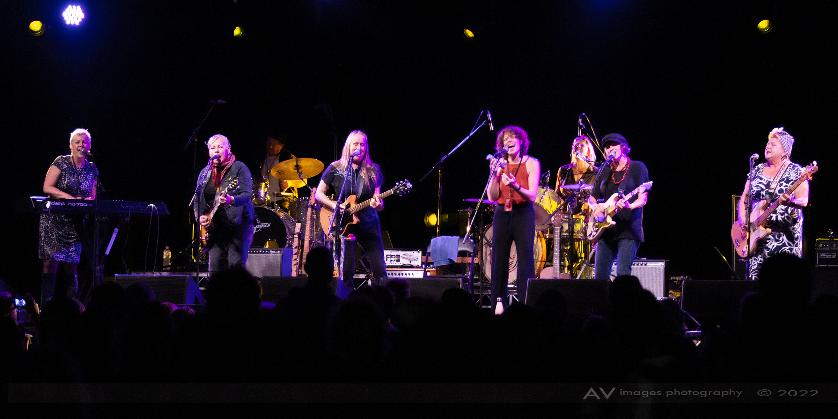 Day 2 - Friday
Friday is traditionally a busier day as the weekend winds up a few notches, and we had the intention to leave a bit earlier just to get our bearings...well those plans hit a wall as the highway from Byron to the Bluesfest site was as clogged up as a Parramatta Rd on a Monday morning!
When we finally do arrive we find every man (and woman) and their dogs seem to have hit Byron. The mud monster has sort of stayed away but the showers continue and might just cause the mudboots to make an appearance!
I make my way to check out birthday girl Kara Grainger at the Juke Joint, which will be my goto venue for most of the day. Playing with some of her bandmates from Papa Lips days in Clayton Doley on keys and Rowan Lane on Bass. Kara puts in a solid performance of mainly blues influenced tracks with some very capable slide guitar. Catch Kara again today on the Delta stage at 3pm.
I had to check in on the War and Treaty, this being their follow--up appearance following their Bluesfest debut back in 2019. They certainly seem to be enjoying the crowd and playing live again here in Australia...always an uplifting experience. The War & Treaty will be playing all weekend between the Delta and Juke Joint stages.
Fiona Boyes and the Fortune Tellers were next. The band being Mark Grunden on drums, Dirk DuBois on bass and James Black on keys...a mighty fine replacement for the out-of-action Tim Neal. Great songs, as always, and a different sound as Fiona allowed each of these superb musicians their opportunity to shine. Fiona does a final solo set today on the Juke Joint at 3pm.
Pacey King & Doley set up on the Jambalaya for their long awaited Bluesfest debut, as this band came together to originally play the 2020 cancelled show. In the interim the band has recorded an album in Better Together which placed No.1 on the airplay charts for the month of February. Many friends and curious punters make it along to the seated Jambalaya tent and leave as new fans. Two other gigs for PK&D, today (Saturday) and Monday.
Others of note who we also caught today were CW Stoneking, Tex Perkins doing his Man in Black show, a second set of the Blues Empress All-Stars, Russell Morris (still in fine voice and now playing a fender electric), a few songs of Midnight Oil for nostalgic reasons but too many bad teen memories and overcrowding just made it difficult to sustain a 2 hour set. Rounding out the night with the wonderfully joyous performance by Lachy Doley and The Horns of Conviction.
We escaped into the car park before the mad throng of Oil fans pour out into the sold out slushy parking area - wise move!
Day three rolls on with weather pattern ofshowers interrupted by bouts of sunshine type of day! Bring on hump day!!! Geoff Achison, Ray Beadle and Chain with some special guests in Juzzie Smith, Ash Grunwald, and Geoff Achison (a little bird has told me!)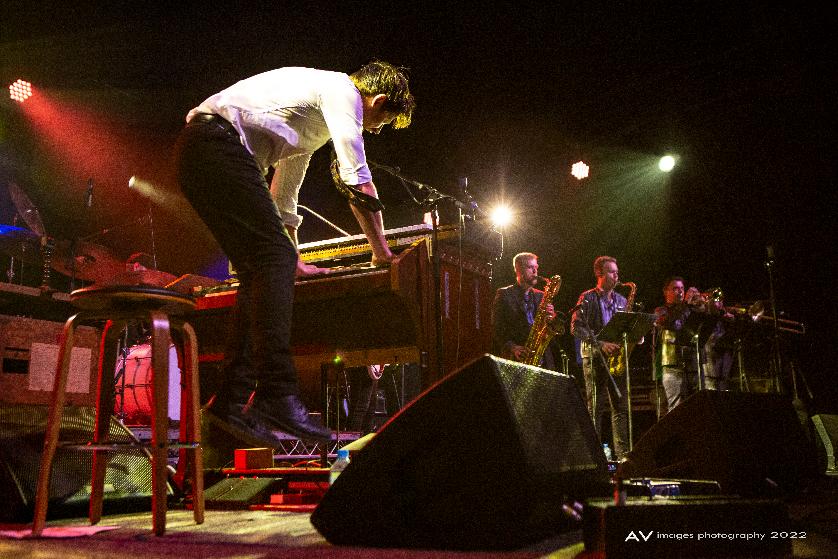 Saturday - Day 3
Well, today might have just put a little more of the blues into Bluesfest for me!
Just doing a quick preview of what's on my cameras before I hit the pillow for a well earned night's sleep, I see I started the day with Fiona Boyes in the Juke Joint and ended the night with Chain and their special guests - Juzzie Smith, Geoff Achison and Ash Grunwald! Australian Blues at it's finest...I know that's a big call but I'm not stepping down here...it was exceptional!
Also in the mix today was another set from Pacey King & Doley who pulled out all stops and put on a next level set that had several other songs added to the mix of their new material, such as Shane Pacey's Howling at The Moon and Sally King's The Pain which The Bondi Cigars recorded and for the first time played with one of the recording artist in Shane Pacey and the writer Sally KIng together. You can catch them again on Monday at 7.30 on the Jambalaya.
The very dapper Ray Beadle, as always, put in a mighty fine performance, and along with the band of George Brugmans on drums, Ben Edwards on bass and the always styling Adam Pringle on second guitar made for a blues set par excellence. The interplay between Ray and Adam was impressive...not over playing each other but allowing each other the space to show their fretboard skills! Ray and band play again today on the Juke Joint today at 8pm.
So, the Chain gig...on come Dirk, Trapper and Phil but where's Matt? Phil Manning proceeds to announce that several guests would be gracing the stage to fill in for the aforementioned missing 4th member of the band...the first being local harmonica virtuoso Juzzie Smith. Without any intro, Geoff Achison quietly walks on stage during the third song, plugs in and proceeds to trade licks with Phil Manning. Then half way through the set Phil brings out Ash Grunwald to the opening percussive beats of Black and Blue. Phil says, apart from Matt, Ash is the only other person who could do justice to this iconic early 70's blues track...he's not wrong. The set only built from that point on, all musicians seeming to be totally enjoying their time on stage with the "Godfathers of Australian Blues". Playing some Robert Johnson, Muddy Waters, Howling Wolf and a number of the better known Chain tracks, this was a fantastic way to end the evening in the Juke Joint.
Our card today also included a second set of Kara Grainger, Nathan Cavaleri, the mighty fine vocal work by Clarence Bekker (along with Davo Fester on percussion, Clayton Doley on Keys and Rex Goh on guitar), a supercharged set by south coast band 19-Twenty with lead man Kane Dennelly man possessed prancing the stage - all great fun! The Black Sorrows in the larger Delta tent put in a rock-solid set.
Today, well the weather hasn't improved much, the grounds are getting muddier but there is still so much great music, Daniel Champagne (if I can process these photos in the next 2 hours), Kim Churchill, Josh Teskey & Ash Grunwald, DIESEL, Hussy Hicks, Amadou & Mariam, Jeff Lang, Ian Moss, Jimmy Barnes, Renee Geyer, the Backsliders one and only Bluesfest gig and George Benson...might be a very busy day.
It's great to see Bluesfest back and so many people I have spoken to have all mentioned "this is what we need after a pretty shitty two years" ...enjoy yourselves!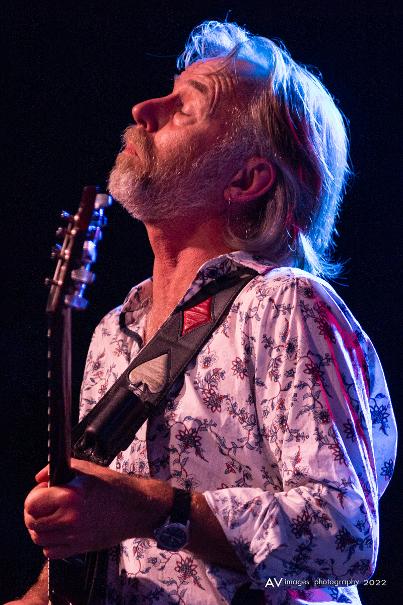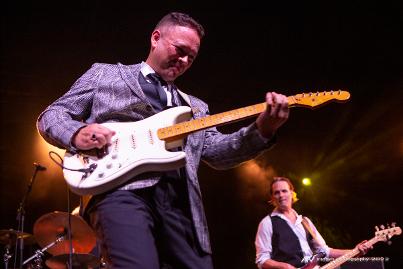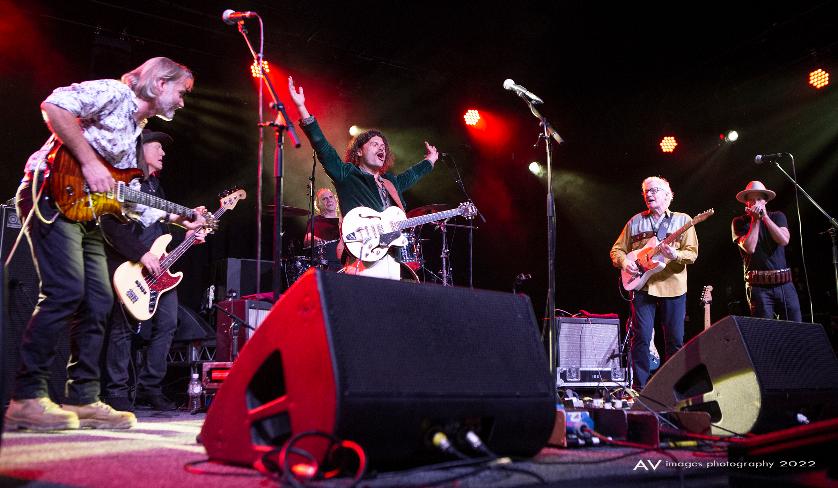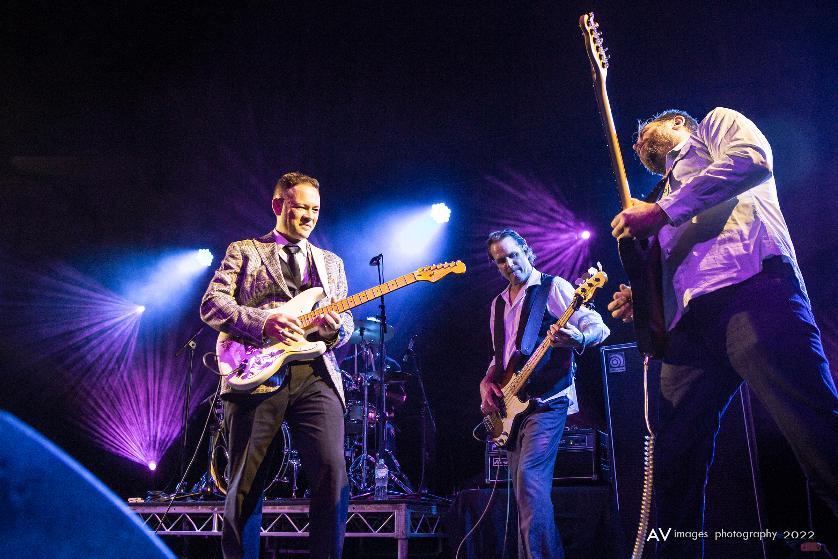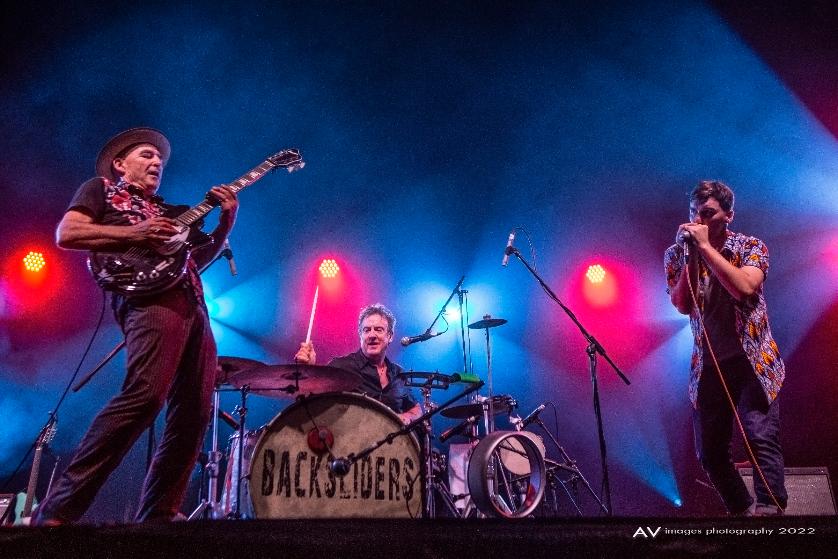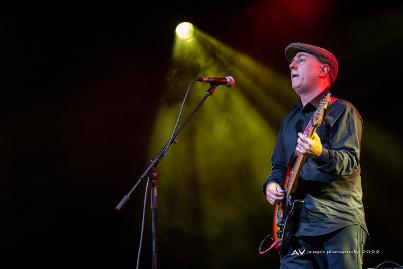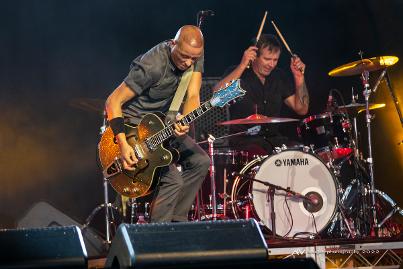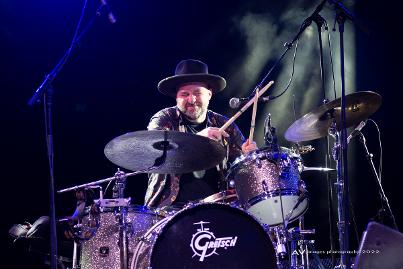 Sunday - Day 4
Wake up to beautiful sunshine north coast type of day today...the grounds certainly need a bit of sun, but I know that also means the dreaded humidity! Bluesfest put out an official notice yesterday, "The grounds are generally good but it might be advisable to bring your gumboots as some areas are a bit muddy"...inside many of the larger tents is like the swamps of ye old days. I bought long gumboots about 10 years ago and have put off having to wear them and today will be no different! I break out the trusty sno seal leather boots instead (Boots Don't Fail Me Now)!
Sunday, which for me in the past has been a quieter day to catch up with family and friends and spend time to chill out and listen to whole sets rather than flitting from tent to tent...a day to slow down a bit! But this year seemed a bit different...many people wandering the grounds, packed tents, and long line ups for food at most of the wonderful food venues (again another sold out car park...let me tell you that selling car spaces hasn't rectified the car park squeeze at the end of the night that much, it's still a slow extraction process at the end of the night).
Again a slightly later start than planned meant we only caught the last half of the DIESEL set with full band. We had seen DIESEL only a week ago in Byron Community Theatre in solo mode. I must say he is better suited to a large outdoor venue...sounding great and playing all the crowd favourites. I assume he played the more bluesy tracks from his last album Alone With Blues at the start, as he did at the Byron Theatre gig, which I am a little disappointed to have missed.
For a bit of that 90's nostalgia, when we were living in inner city Sydney, I had to jump into the pit to check out and photograph Wedding, Parties, Anything...loved this band back then and they are still sounding and playing great with Mick Thomas the ever indomitable front man of the band.
I bit of Mali was next with Amadou and Mariam, giving us some sound African groove...yep, I agree with Deb who was a fellow BayFM presenter, the blues did come out of this style of music. Very joyous and danceable music!
Jeff Lang and Danny McKenna on the Juke Joint were next...a very appropriate tent for this groove driving duo...I could hear many similarities between the style of playing in some tracks by Amadou Bagayoko and Jeff...Jeff and Danny play again today at 4.30
Ian Moss and Jimmy Barnes were next, no not together but one after the other on the same stage...I was expecting something but not that Labor leader Albo would be invited on to introduce Jimmy Barnes and opening track Working Class Man to the crowd (not sure his minders read the Barnesy crowd too well though!)
A bit more Ray Beadle before the Backsliders put in a big one only set for Bluesfest on the Juke Joint stage...certainly enjoying this outing for a band who have appeared at more Bluesfests than any other band (OK, with a many rotating roster of musicians) but alway fronted by the unassuming and extremely skillful playing and vocals of Dom Turner, Rob Hirst (20 years with the band) and relative late comer but certainly an exceptional contribution in Joe Glover on Harmonica.
Mmm today, what's in stall?
I think I'm going to sit and watch a full RocKwiz Live show (I have never done this before even they have been doing their show for at least 10 years here at Bluesfest). Josh Teskey and Ash Grunwald is a must see for me...Ash played and sung so well the other day with Chain and I was very impressed by their Push the Blues Away album from last year. We will go and see what Jeff Martin is doing with the Led Zeppelin songs...maybe some Troy Cassar-Daley, last opportunity to witness the guitar and vocals of Christone "Kingfish" Ingram, maybe one more Pacey King & Doley set, The Teskey Brothers and Geoff Achison and The Souldiggers to round off a weekend of great music.
Then tomorrow you may rest, knowing there will be a 2023 Bluesfest...the musicians are already saying they can't wait to come back next year.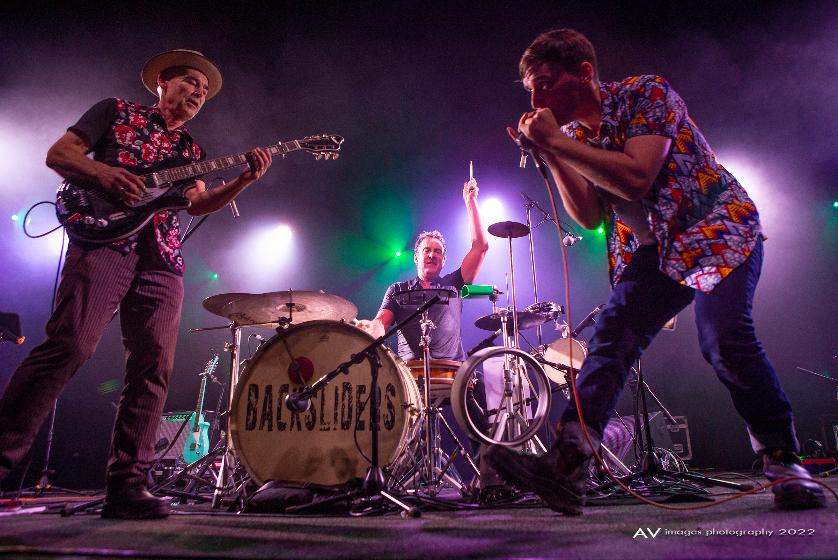 Monday - Day 5
Last day..."BLUESFEST is back with a BANG!"
But where are the crowds today? They seem to have slimmed down...we must be earlier than normal. No, we arrive at our regular starting time of approximately 2:30pm! Damn, missed RocKwiz AGAIN! Maybe the crowd will turn up later?!?
Yes, Monday seemed for some unknown reason to be a lot quieter than the past three days, but still some popular names are on offer - The Teskey Brothers; The Waifs; The War & Treaty; Pacey, KIng & Doley; Corey Henry; John Williamson; Mark Seymour; Troy Cassar-Daley; Hussy Hicks; Fools; Christone "KIngfish" Ingram...OK, most of these acts have played at least once, some twice even some thrice already over the weekend! Well that doesn't stop me and many of the punters getting along to these acts for a second time...I top and tail the weekend with the young International blues artists Christone "Kingfish" Ingram...what a great way to start and finish this long weekend of music.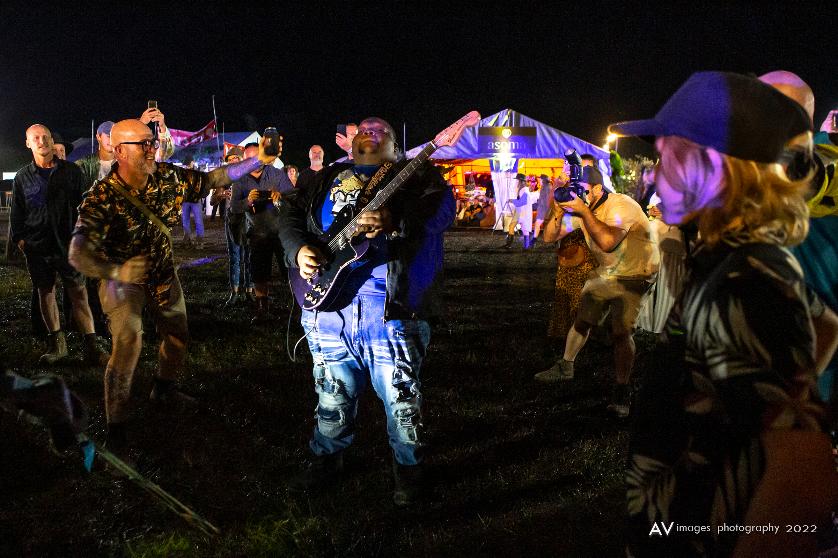 See you for the 34th Bluesfest
in 2023!
Copyright © 2010-2023. Anthony V Moulay. All Rights Reserved.