34th Byron Bay Bluesfest 2023
words and pictures by Anthony Moulay, words and videos by Mary Mackenzie
Day 5 - Monday
We start the final day with the Backsliders on the main Mojo stage. Dom, Rob and Joe certainly reveling on the main stage playing to an ever-growing crowd throughout their performance.
Jon Stevens - Crossroads
Mavis Staples - Mojo (no photo pit access)
Lachy Doley & The Horns of Conviction - Juke Joint
Bonnie Raitt - Crossroads (photo pit: 1st song only)
Michael Franti & Spearhead - Mojo
The Doobie Brothers - Crossroads (no photo pit access)
Femi Kuti & The Positive Force - Delta
Trombone Shorty & Orleans Avenue - Delta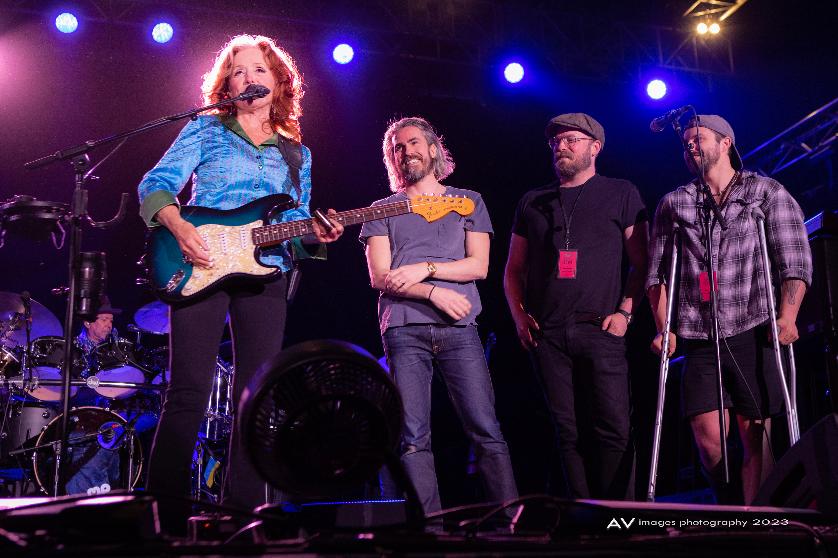 Bonnie Raitt with guests The Bros. Landreth - photo: Anthony Moulay
A sparkling crisp Autumn sunny day greets us today for day 4 of the 34th Byron Bay Bluesfest.
The day starts for us with a quick check-in to see what the hype about Steve 'N' Seagulls is all about. A Finnish "bluegrass" jam band playing their versions of a lot of songs from the 60's, 70's and 80's...sounds like some crass commercial FM radio station! They carry it off in a very comedic but totally entertaining and accomplished musical way.
Next we walk on over to the only tent with any grass, the Juke Joint, which is a much larger tent than in past years also with a much bigger stage. This new site for the Juke Joint started last year and has been continued...what with the missing Jambalaya tent this year it makes for another good size venue. I just hope they will get the stage lighting a bit better today, not only for photographs but for the punters. The artists often being left in a silhouette and if they moved a meter or two outside the lighting zone.
With an introduction by Festival director & past IBC judge Peter Noble - Ray Beadle's STAX of Blues kicks off with a big band including three-piece horn section. This is the only show for this incarnation of the Ray Beadle band for this Bluesfest. They certainly don't hold back and put on a wonderful performance. Apart from Ray, the only other player who has a repeat performance is second guitarist Adam Pringle. What a great band performing many of the classic blues tracks from the STAX stables.
Grammy winner Bonnie Raitt & her band headlined on the Mojo to a large appreciative crowd on this slightly undersold day of the festival…it seems like there are a lot less people than a normal Sunday at Bluesfest this year. She starts off the set by inviting The Bros. Landreth out to help on vocals with her Grammy winning song which they wrote and became the lead single off Raitt's new album "Just Like That".
Her new touring band consisting of some long standing members along with some new additions. Glenn Patscha on keys, Duke Levine on guitar, James "Hutch" Hutchinson on bass, the wonderful Rickie Fataar on drums.
Bonnie pulls out a wide selection of songs from across her long standing career and also performed a tribute to long time friend John Prine playing a song they used to play together Angel from Montgomery. Also a guest appearance on her encore last song by Rick Holstromm (Mavis Staple's guitarist) & Bonnie's brother David on harp
Lachy Doley and the Horns of Conviction put in an energetic set with this 10-piece band. 4-piece horn section, 4 backing singers, and his regular rhythm section of Joel and Jackie. They are back on again on the final day of Bluesfest on The Juke Joint at 5:30.
Trombone Shorty & Orleans Avenue took over the Crossroads and had it pumped up in New Orleans Tipitina style. Great showmanship & a well choreographed set including a 'Bone & Sax out into the crowd walk-through. It certainly left the crowd with many smiles and a lot of sore feet from all the dancing.
On the final day of the festival we are looking forward to catching The Backsliders, Doobie Brothers, Clarence Bekker, Dana Gehrmann with Danny Widdicomb, Beth Hart (acoustic), Jon Stevens, Mavis & little more Lachy Doley and Horns of Conviction, Femi Kuti & The Positive Force.
Lachy Doley & The Horns of Conviction - photo: Anthony Moulay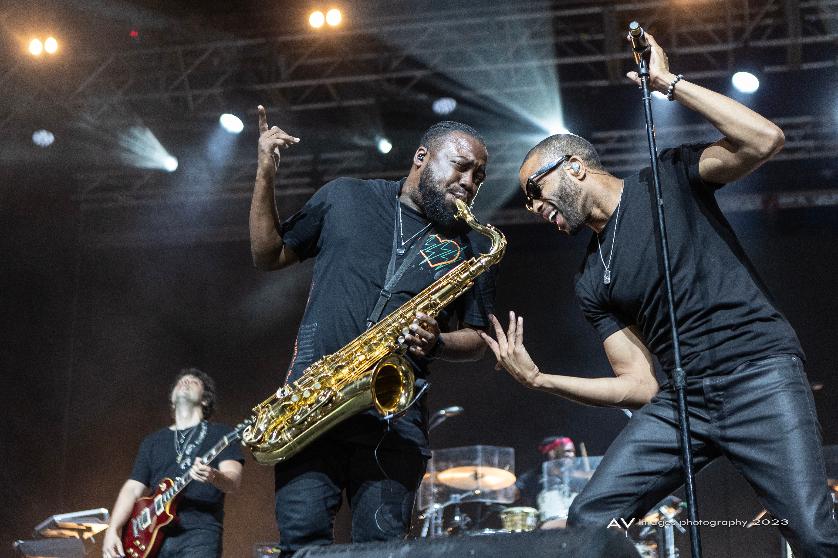 Trombone Shorty, B.K. Jackson (sax) & Pete Murano (guitar) - photo: Anthony Moulay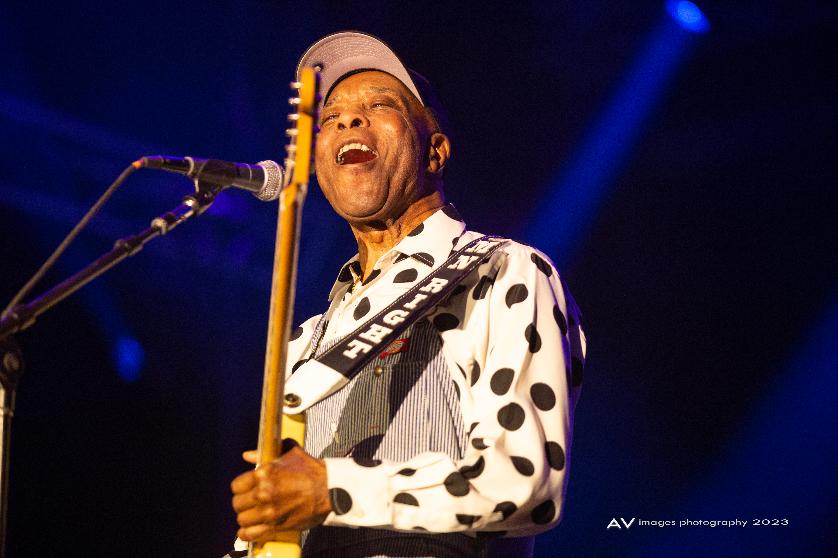 The Legendary Buddy Guy (looking very sprightly for 86 years old!)- photo: Anthony Moulay 2023
Crossroads is the tent to be at today if you like your blues...especially if you like it with heavy lashings of electric guitar (a teenage boy's wet dream) - Christone "Kingfish" Ingram, The Marcus King band, Chain, Eric Gales, The Legendary Buddy Guy and to round off the night, Joe Bonamassa. Who knows what collaborations will be dreamed up today!
We make it to the festival site after the challenge of our power and communications loss at home and head straight over for another of Christone "Kingfish" Ingram's sets. Arriving at the Crossroads just a little past 2, our timing perfect as he heads out into the audience right in front of us. Security guards didn't seem to get the memo that this was going to happen until Christone with his manager in tow appear behind them. Kingfish is certainly playing in top form and the appreciative crowd continues to swell at each performance, certainly his mantle has grown since his inaugural performances at Bluesfest last year.
The Nikki Hill band on the Delta stage gave us the high energy set the band is known for and constantly deliver. The combo of Matt Hill with Laura Chavez (one time carer and guitarist with Candy Kane) duelling on guitars. Nikki Vincent Hill as always owned the stage with her high energy performance and prowling stage presence.
Back to the Crossroads tent for the sweet southern soul of The Marcus King Band in his last gig at the festival. Jam band Southern rock/soul is the band's style and it was certainly a top notch, outstanding performance taking out our nomination for act of the day.
Chain is always a crowd favourite and again prove why they held the mantle of one of the premier Australian blues acts over the last fifty plus years. The band played last year without Matt Taylor but this year sees the four reunite on The Crossroads stage being the only Australian band to grace this stage today.
The large crowd that gathered in the Mojo to see Jackson Browne might have been just a little disappointed that he really focussed on delivering more recent tracks. What seemed a volume of single day attendees for double bill of Jackson & Buddy Guy's last show seemed to swell numbers. Jackson's voice still with its signature timbre & strength, playing many pieces on both electric and acoustic guitar, but also pulling up to the keyboard for a number of well known Jackson songs. He closed out the set with Running on Empty. Ably supported by some well known band members with Jason Crosby playing piano and violin as well as Greg Leisz on guitar and lap slide. There are plenty of artists, various hanger's on & VIP's in the pit to witness Jackson's performance including Beck who has been sited backstage visiting a number of this evening's acts.
Clarence Bekker is a performer par-excellence, giving us a fine soul/R'n'B set of wonderful selection of tunes. He is become a bit of a regular performer over the years here at Bluesfest and is joined on stage this year once again by Clayton Doley on keys and Davo Fester on percussion. Also in the band making his Bluesfest debut, is actor, singer, pianist and music director Eric Stang on second keys...when 88 is just not enough!
Buddy Guy at the tender age of 86 is the true legend & elder statesmen of Chicago Blues, he took his final bow at Bluesfest at this performance. Buddy dedicated the show to the audience in an emotional, heartfelt set. The opening track It Feels like Rain ensured maximum crowd participation which Buddy held in his grasp for the whole one-and-a-half hour set.
After his regular shtick of demonstrating the various playing styles of past guitar legends including Jimi, John Lee, and Jimmy Reed, he proceeds in covered many songs including Bobby Rush's hit Chicken Heads & the Slim Harpo track, I'm a King Bee. After what was a pretty smooth opening three-quarters of an hour he is handed his next change of guitar but some irritating technical glitches rendered his signature polka dot Stratocaster guitar unplayable. Buddy maintained his cool as the consummate professional he is and did his walk out into the crowd where he ended up focussed on a couple of the younger kids in the audience and gave them a chance to get their hands on his guitar. Finished with Someone Else is Stepping In, handing over the mantle to the younger up-and-coming musicians. Did I see Kingfish sitting in the pit transfixed by Buddy's final Australian tour gig?
Joe Bonamassa threw everything at his set in a dizzy haze of jet lag, food poisoning recovery & true blues/rock passion to perform at Bluesfest. A full-tilt blues set heavy on guitar and ably backed by the talented 7 piece band including fellow blues guitar virtuoso Josh Smith and ex-Double Trouble SRV hall of fame keyboard player Reese Wynans. Also included in his band are long time Sydney-born backing vocalists, Jade MacRae and Danielle De Andrea.
Joined by Eric Gales, who's recent album The Crown was produced by Bonamassa, for the finale of the night saw a trading lick for lick guitar extravaganza. Joe had also made an appearance earlier on the X-roads stage with Eric Gales last song, along with Marcus King and Christone "Kingfish" Ingram. A day of guitar worshipers heaven!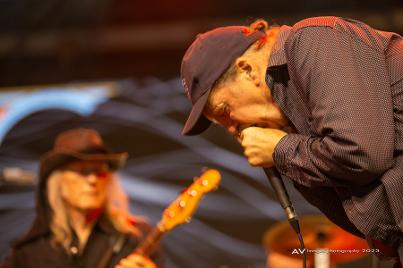 Dirk Dubois and Matt Taylor - Chain - photo: Anthony Moulay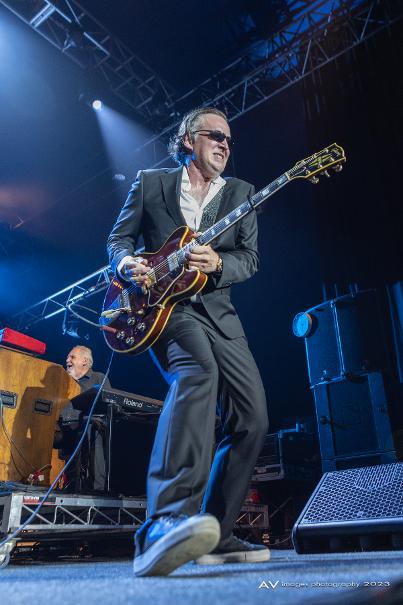 Joe Bonamassa - photo: Anthony Moulay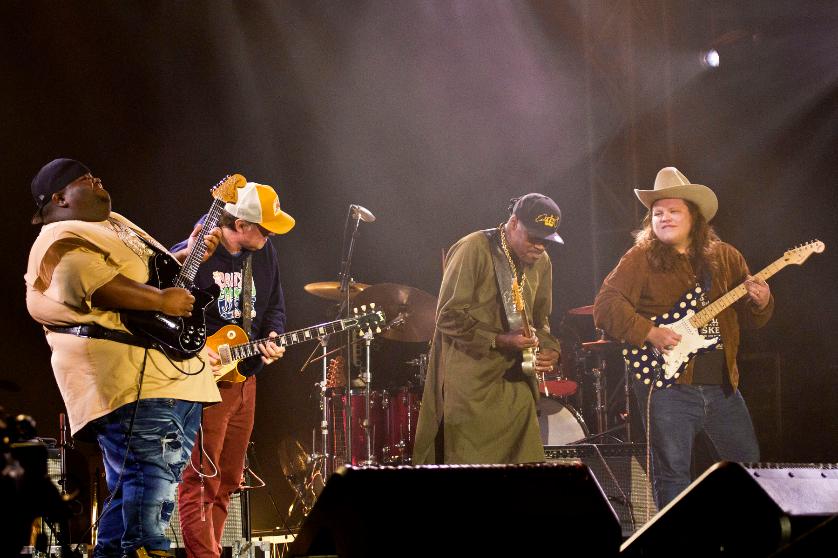 Eric Gales final song - joined by Christone "Kingfish" Ingram, Joe Bonamassa and Marcus King (playing Buddy's polka dot Stratocaster) -photo: Dave Brandon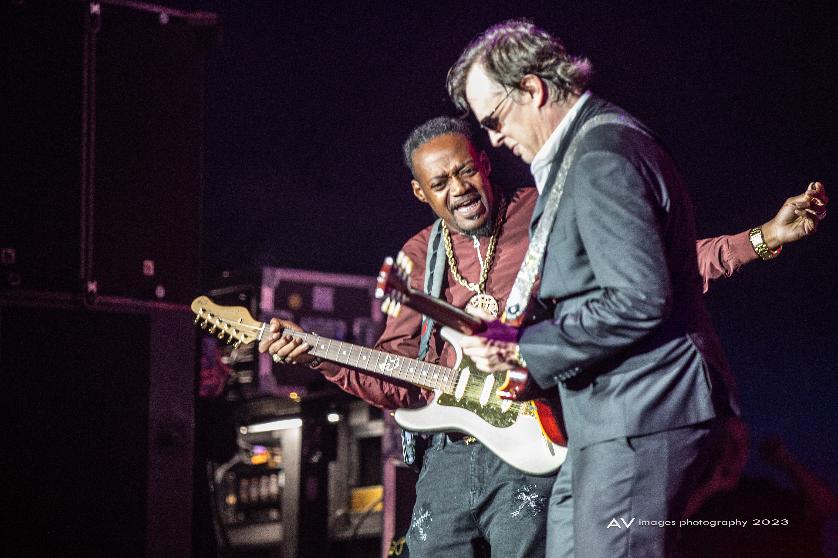 Eric Gales joining Joe Bonamassa on his finalé- photo: Anthony Moulay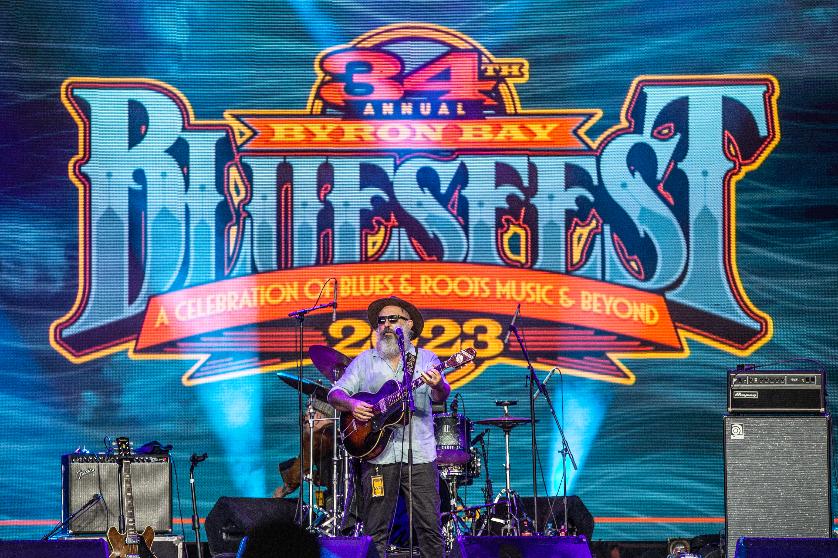 Day 2 Friday
Which fish is best?
Kingfish!
Christone "Kingfish" Ingram remains our blues guitar highlight of the festival so far. The return performance to Bluesfest, which sees him playing on the main Mojo stage, befitting this young electric blues player.
Kicking off with an early pre-midday start on the Crossroads stage we get to check in with Frank Sultana following his Memphis IBC success. His band consisting of fellow South Coaster harp player Dan Sullivan, Mick Malouf on bass and Adrian Herbert drums. Also joining on vocals and Adrian on the drum riser, Byron Bay musician Cass Eager.
Ray Beadle put on a great set on the Mojo stage, he's looking pretty chuffed to be back here at Bluesfest as are we, proving he is the Australian blues guitar extraordinaire. Adam Pringle on rhythm guitar also showing he can match Ray, pulling out some great solos in the set. These two have a synchronicity to their performances. Check Ray out for the STAX of Blues set on Sunday @ the Juke Joint stage with his 8-piece big band.
Just proving the diversity of acts which get presented at "Bluesfest" we next head off to Greensky Bluegrass, a bluegrass jam band founded in Kalamazoo, Michigan. As we enter the tent they are playing a wonderful version of Sprinsteen's Atlantic City. We stay to the end of the set for the debut Australian appearance by this accomplished group of Mandolin, banjo, double bass, guitar and dobro playing 5-piece band.
"Kill the headlights & put it in neutral"
I originally thought the inclusion of Beck was an unusual one but on the Crossroads he proved to be an exceptional fit for Bluesfest. No need to prove anything, his entertaining and often shambolic sounding but polished set was a crowd pleaser with a packed Crossroads tent, spilling well outside the its confines. Bluesfest being one of only 3 Australian shows, he performed plenty from his diverse back catalogue as well as a fan offered AI generated song - I think Artificial Intelligence has a very long way to match the human input of songwriting, thankfully!
Beck played many songs from the albums Seachange, Odelay, and Morning Phase. Also throwing in some interesting covers, such as Neil Young's Old Man - which was nominated for a 2023 Grammy, and British pop band, Korgis "Everybody's Gotta Learn Sometime" which he recorded for the film Eternal Sunshine of the Spotless Mind soundtrack.
He also played a few tracks on piano including "Where's it's at" Crowd fav from 1994 and of course his first single, which I'm sure everyone in the crowd came for, Loser. Beck closed out the set with the track "one foot in the grave" with some pretty impressive harmonica.
On our way out the gates to an earlier than usual exit we listen to a bit of Lucinda Williams, again joined by Steve Earle and then a couple of tracks by the energetic Ty Taylor out the front of Vintage Trouble.
These ol' legs have had enough for today...we need to pace ourselves for another 3 days.
As I write this we have just lost all power and comms, so I don't know when I will get to post and finish editing...ah there it is, flexibility at work again.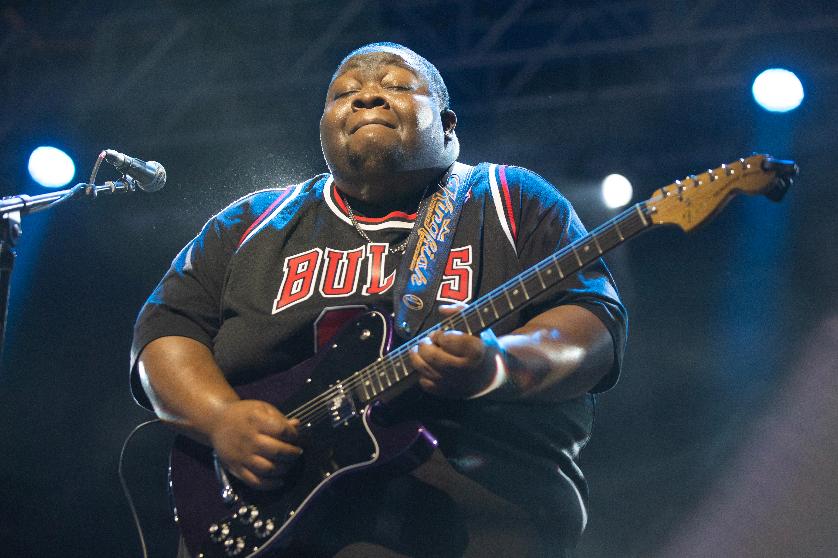 Christone "Kingfish" Ingram - Bluesfest 2023 photo: Anthony Moulay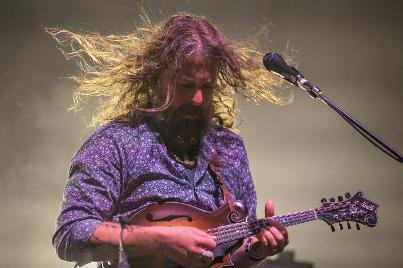 Greensky Bluegrass: Paul Hoffman (mandolin/vocals) - photo: Anthony Moulay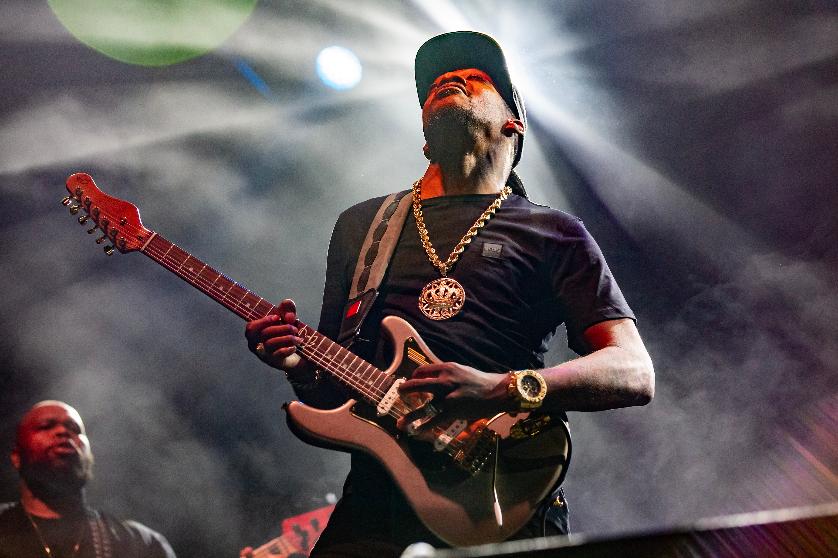 Eric Gales - Bluesfest 2023 (photo: Anthony Moulay)
Day 1 Thursday
A stunning autumn Far North Coast Thursday awaited the opening of the 34th Byron Bay Bluesfest.
Flexibility is a word we are all too familiar with, and it's especially true for this festival - my suggestion, go with the flow and "accept what is, let go of what was and have faith in what will be".
A couple of cancellations (yep, illness still having its impact), several changes to the program, one less stage and a number of other less perceivable changes is what we find when we arrive on site.
As we walk through the gates we are lured in by the MC on the Juke Joint and start with some Memphis soul/roots music by Southern Avenue...lead by dynamo singer Tierinii Jackson and the smooth guitar of Ori Naftaly. Held together by the drums of Tikyra Jackson. Also Jeremy Powell on keys, bass and solo backing singer. A wonderful intro to 5 days of great music!
From here we venture further afield, connect with friends and acquaintances as we traverse the site. We don't get very far as we pass through the Delta stage and stop to listen to Steve Earle in solo mode. Playing tribute to his son Justin, in playing Harlem River Blues and talking to the crowd about the circumstances of his accidental overdose that resulted in his premature death. He of course ends on a crowd sing along favourite with Copperhead road, performed beautifully on mandolin.
We head back to the Juke Joint again to see Eric Gales. We are very glad we did, Mary ends up staying for the whole 1 hour show and can't stop with the accolades about his performance. (Mary provided a video or two...check them out to see what went down).
Also of note on our first day was the wonderful Beth Hart, doing a very Led Zeppelin version of the Kansas Joe McCoy and Memphis Minnie track When The Levee Breaks. I believe that Eric Gales made a guest appearance on stage with Beth for a version of Rather Go Blind, who she originally recorded with Joe Bonamassa.
Tex Perkins and Matt Walker fill in for the injured Joe Camilleri and The Black Sorrows. Tex is so comfortable on the Delta stage and Matt's guitar work is impeccable doing a variety of tracks across Cruel Sea classics to Fat Rubber Band tunes.
We finish with Larkin Poe, who appear with a slightly different couple of band members than last time they were here four years ago. Their stage presence and songcraft having gained even more in those years. Another one I list in my mental checklist to make sure I catch a full set tonight on The Delta stage from 10:30...
Now to gather myself for a Great Friday of music, food, and friends!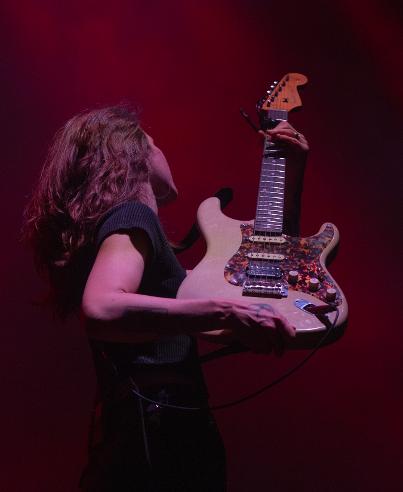 Larkin Poe - Bluesfest 2023 (photo: Anthony Moulay)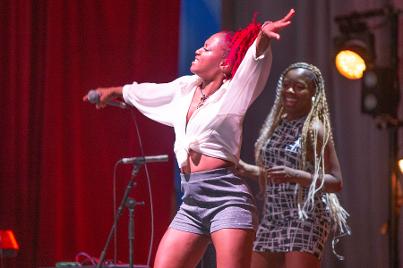 Southern Avenue - Bluesfest 2023 (photo: Anthony Moulay)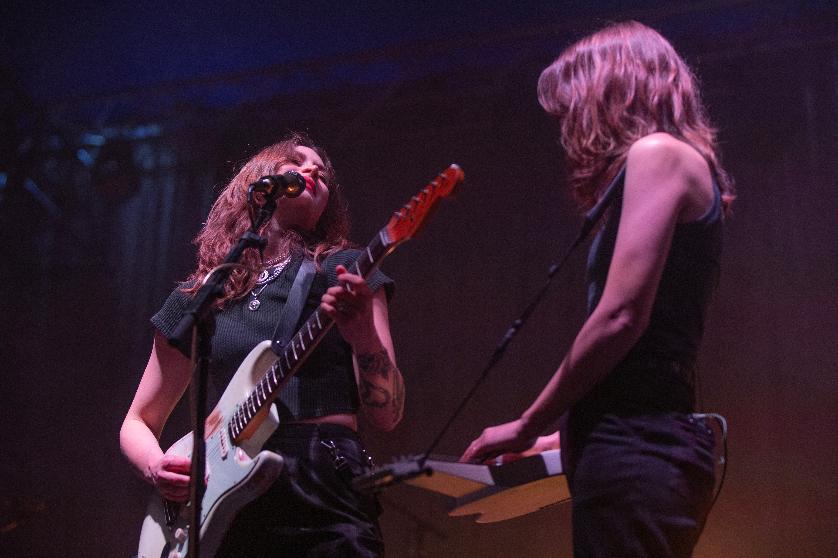 Larkin Poe - Bluesfest 2023 (photo: Anthony Moulay)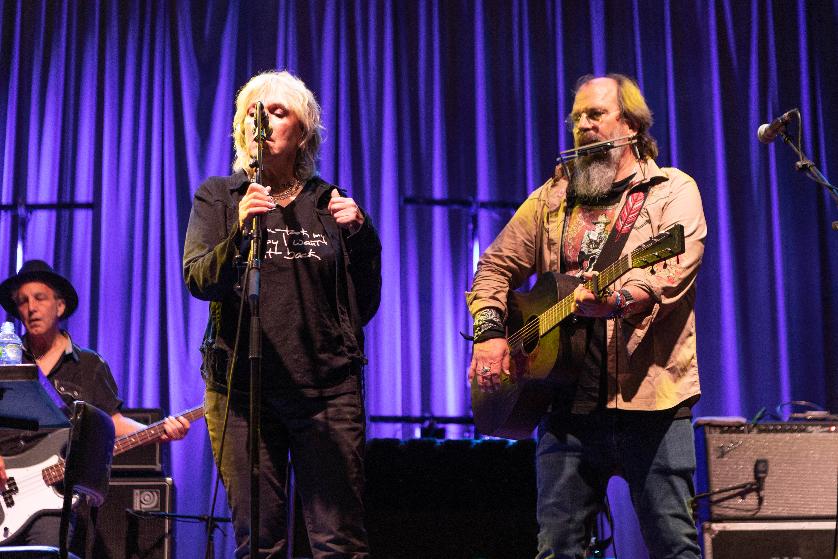 Lucinda Williams & Steve Earle - Bluesfest 2023 (photo: Anthony Moulay)
Copyright © 2010-2023. Anthony V Moulay. All Rights Reserved.