New Release Reviews - International albums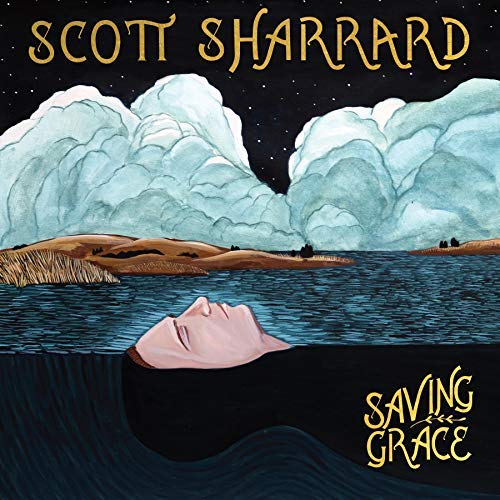 Scott Sharrard
"

Saving Grace

"
Label: We Save Music
(Release Date: 21/9/2018
With his connection to The Allman Brothers Band, it's a given that Scott Sharrard - Gregg Allman's guitarist and musical director - knows a thing or three about Southern rock, some of which you'll be hearing on "Saving Grace," his fifth solo release. On the other hand, you'll also be hearing some soul, blues and R&B - with the keyword there being soul - and the influence of that Southern sound will be quite evident in them all.
"Saving Grace" contains eleven tracks with nine being Scott Sharrard originals, another being the last known composition from Gregg Allman and the other being the disc's only cover.
On the project, Scott Sharrard - on vocals, electric and acoustic guitars and claps - is joined by just under my listing limit of thirty musicians; so instead of just referring to them as a "talented bunch of recognizable names", it is my pleasure to mention each and every one. They are: Howard Grimes, Bernard "Pretty" Purdie, Steve Potts and Chad Gamble on drums; Leroy Hodges, Brett Bass and David Hood on bass; Charles Hodges, Alan Gamble and Pete Levin on B-3 organ; Eric Finland on Wurlitzer & electric piano and B-3 organ; Spooner Oldham on Wurlitzer piano; Moses Patrou on percussion, backing vocals and claps; Mark Franklin on trumpet; Art Edmaiston on tenor sax; Kirk Smothers on baritone sax; Jesse Munson, Yennifer Correia and Wen Yih Yu on violin; Jennifer Puckett on viola; Jonathan Kirkscey on cello; Susan Marshall and Pie on backing vocals; Charles A. Martinez, Jesse Guglielmo and the disc's co-producer Scott Bomar on claps; and special guest Taj Mahal on vocals.
"Saving Grace" is one of those albums where I could just go straight down the list of excellent tracks and make positive comments on each and every one but since I just made my point, I'll keep it to a few.
One of the several soft and relaxed tracks is a love song titled "Faith To Arise" (T. Reid). It's a beautifully sung song about a weary traveler looking forward to returning home to his loved ones. With some silky-smooth help from Susan, Scott's not only nailing it on the heartfelt lead vocals, he's doing it on the slide and acoustic guitars as well.
With deep regrets, Scott emotionally and soulfully laments over the loss of the woman who always picked him up when he was down. She knew exactly how to get him through those tough times and bouts with low self-esteem. She was indeed, his "Saving Grace". This, the title track, is the only one on the album that features just the nucleus of the band and in spite of the lack of added horns, and extra percussion, it's still a musical powerhouse. Chad (drums), David (bass) and Eric (B-3 and piano) have the rhythm at a high level of intensity and Scott's laying down some of the disc's most serious blues licks on the guitar.
"Everything A Good Man Needs" is said to be the last song written by the late and great Gregg Allman. Until now, the song had never been recorded and the honor of doing justice to it with the vocal performance it warrants was given to the legendary Taj Mahal. Teaming up for their only appearance on the disc, Bernard Purdie and Brett Bass are putting out the tight rhythm; Also, on his only appearance, Pete Levin - one of the disc's four B-3 players - and Eric Finland on the piano, are totally killing it on the keys.
An obvious common denominator on so many of these songs is how beautiful they all sound and "Words Can't Say" is the cream of that crop. The combination of the majestic strings, the heavenly horns, the pulse of the B-3 and Scott's exquisitely smooth and soulful voice all give this ballad a hymnal feel.
Like a flame thrower, "Sweet Compromise" starts off hot and never lets up. The guitar's smokin', the rhythm's rocking, the horns are howlin' and on an album that has so many monster organ players, I'm going out on a limb and saying Eric's pounding out some of the disc's best B-3 work. If this smoker doesn't get you moving, you've spent way too much time listening to music in a elevator, or worse than that - your pulse may have stopped.
Other tracks on the outstanding release include: "High Cost Of Loving You," "Angeline," "She Can't Say," "Tell The Truth," "Keep Me In Your Heart," and "Sentimental Fool."
Review by Peter "Blewzzman" Lauro © August 2018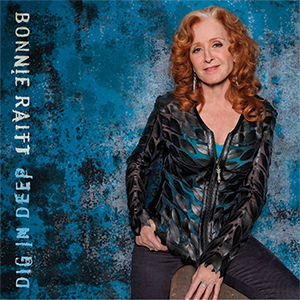 Bonnie Raitt
Dig In Deep
Label: Redwing Records
Release Date: 26th Feb 2016
Bonnie Raitt has just released her 2016 album Dig In Deep. After recording her Souls Alike album back in 2005 to much acclaim she then slipped from the music radar until her return to recording when she released the wonderful multi award winning 2012 Slipstream on her own Redwing label.
The new album, Dig in Deep released in February 2016, sees her 20th release continue on where Slipstream left off…a very classy, funky album with Bonnie's beautiful arrangements featuring tight interplay between the members of her live band and some of her best vocals to date.
The track "You've Changed My Mind" written, recorded and produced back in 2010 by Joe Henry for the Slipstream recordings has been added to the other 11 tracks on this new album which are all produced by Bonnie. Some would have liked to have seen a full Joe Henry makeover after his input into Slipstream but I personally favour her decision to produce the majority of this new CD herself. Bonnie has used her live touring band resulting in a well practiced and tight sound from a troupe of musicians who travel and play numerous shows together - guitarist George Marinelli, drummer Ricky Fataar, keyboardist Mike Finnigan, and bassist James "Hutch" Hutchinson…all seasoned musicians each with proven chops and influence in their own right.
Near on half the tracks are self penned and the rest include several co-writes and some well chosen covers including the intriguing inclusion of INXS' "Need You Tonight" which has been given the Raitt revamp; a song she had always thought she could do a decent version of. She has made it one of her own, including her trademark bottleneck slide, an instrument that would never had been thought of for the original version.
With the new album, Dig In Deep, it goes to show that Slipstream was not just a one off. Bonnie's musical creativity is again on the rise and she is delivering wonderfully consistent high quality music with style and class.
Review byAnthony Moulay - Blues from The Bay BayFM, Byron Bay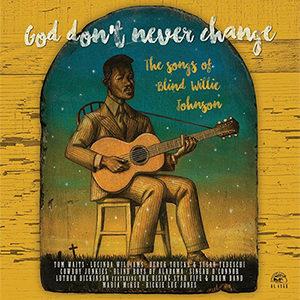 Various Artists
God Don't Never Change (The Songs of Blind Willie Johnson)
Label: Alligator Records
Release Date: Feb 2016
Artists performing on this compilation are:
Tom Waits
Luther Dickinson
Lucinda Williams
Susan Tedeschi / Derek Trucks
Cowboy Junkies
The Blind Boys of Alabama
Sinéad O'Connor
Maria McKee
Rickie Lee Jones
Janiva Magness has been nominated for 25 Blues Music Awards and follows the legendary Koko Taylor as only the second woman to win the highly coveted B.B. King Entertainer of the Year award.
Love Wins Again is Janiva's second release on her new label "Fathead Records" and her fifth collaboration with four-time Grammy nominated producer Dave Darling.
Many of the songs on this new release are original tunes written by Janiva and her collaborators. Many of the songs feature more on the easier listening side of things which enable Janiva's amazing voice to shine through.
Review by Anthony Moulay - Blues from The Bay BayFM, Byron Bay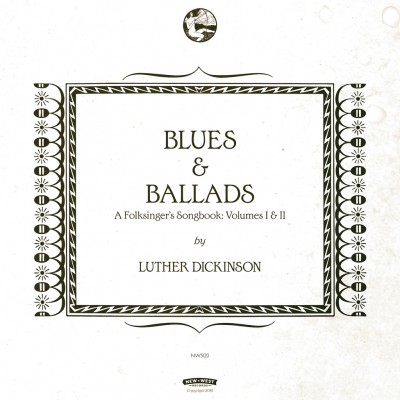 Luther Dickinson
Blues & Ballads - A Folksingers Songbook: Volume I & II
Label: New West Records
Released: Feb 2016
This is the 4th "solo" release by multi Instrumentalist Luther Dickinson who recently was in Australia as part of the band "The Word" with Robert Randolph.
Luther Dickinson on guitar; and his brother Cody, drums; were born in Memphis the sons of legendary musician/producer Jim Dickinson.
Luther's discography includes early recordings with bands such as "D.D.T." and "Gutbucket". After years working as part of the rock club circuit the hill country blues came calling. He and his brother formed the North Mississippi All-stars in 1996 and released their first album "Shake Hands With Shorty" in 2000 on the Tone-Cool Records label. Luther has occasionally returned to rock having recorded two albums with songwriter John Hiatt and two with The Black Crowes. The North Mississippi All-stars have a total of nine albums to date the last being 2013's "World Boogie is Coming".
In 2012 Luther released "Go on Now, You Can't Stay Here: Mississippi Folk Music Volume 3" with The Wandering. This new album is a sort of follow up. Luther has written or co-written all of the 21 songs but they have been inspired by lessons and traditions he has learned. The band includes Luther, guitar, mandolin, piano and vocals; and his band The Cooperators with Sharde Thomas, drums, fife, and vocals; Amy LaVere, upright bass and vocals; Lillie Mae Rische, fiddle and vocals; Charles Hodges, keyboards; Paul Taylor, tub bass; Jimmy Crosthwait, washboard; and backing singers Sharisse and Shontelle Norman.
The album opens with "Hurry Up Sunrise" inspired by fife and drum master Otha Turner (1907-2003) whom Luther credits as co-writer. It originally appeared on the 2005 North Mississippi All-stars "Electric Blue Watermelon" recording but this version is a stripped down and intimate vocal duet with Thomas whom also happens to be Turner's granddaughter. This song is a beauty.
Luther wrote "Ain't No Grave" shortly after the passing of his father Jim. It was originally featured on The North Mississippi All-stars 2011 "Keys to The Kingdom". Joining in on this deeply moving version is Mavis Staples. "Bang Bang Lulu" and the fantastic "Moonshine" were both co-written with the elder Dickinson. Luther states that this album was the most casual he has ever made as it was recorded over a long period of time with friends at studios in Chicago, Nashville and Memphis.
Jason Isbell plays slide guitar on "Up Over Yonder" while JJ Grey harmonizes on the vocal. "Ol' Cannonball" is all Luther, guitar and vocal. Luther, Alvin "Youngblood" Hart and Jimbo Mathus have recorded two albums as The South Memphis String Band and the trio are re-united on "Shake Yo Mama" co- written with Mathus. The song is inspired by Slim Harpo's "Shake Your Hips".
Luther is a collector of songbooks. He states that the folk tradition is always evolving and that this is his life's work, his songbook. It tells his story of "growing up in the modern day rural south among first generation Memphis rock 'n rolling, song collecting, folk bohemians." Luther wants this to be as it should; rare and underground, not for everyone; but for those with an acquired taste. This is highly recommended.
Richard Ludmerer (review from Making a Scene)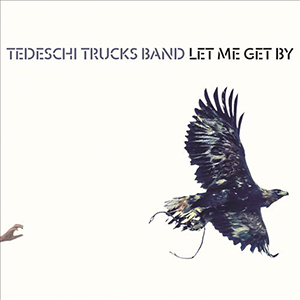 Tedeschi Trucks Band
Let Me Get By
Label: Fantasy
Release Date:
Jan 29, 2016
Susan Tedeschi and Derek Trucks Band have released their new studio album...another slick, Southern Soul record with Derek's trademark slide guitar and Susan's wonderful vocals and rhythm guitar work. Impeccable supported, as always, by the wonderful 10 piece band.
Review by Anthony Moulay - Blues from The Bay BayFM, Byron Bay
Copyright © 2010-2023. Anthony V Moulay. All Rights Reserved.